Students in the Klipsch School of Electrical and  Computer Engineering earn a Bachelor of Science in Electrical Engineering (BSEE) degree.  We are continuously checking our curriculum and making changes when a need is identified.  Since there are changes to the program requirements from year to year, students need to select the catalog they will graduate under.  You may choose the catalog that was in effect when you started school or any subsequent catalog, provided the selected catalog is not more than six years old when you complete the degree.
The curriculum consists of general education, science, math, engineering and electrical engineering classes (see the BSEE requirements for lists). Each EE student must take the EE core classes.  These classes cover all the basic information we expect our EEs to all know.  When the lower-division core courses are complete, students are eligible to enroll in junior cornerstone design.  When the upper-division core is complete, students can take their senior design, capstone course.  Cornerstone and capstone are team design experiences, where students will design, build, test, and document a complex electrical engineering project.  
The program is flexible, allowing students to choose elective coursework towards concentrations in (i) communications and signal processing, (ii) computers and microelectronics, (iii) control and power, (iv) electromagnetics and photonics, or (v) space systems.
Detailed Requirements
Students usually follow the catalog which was in effect when they first attended NMSU. However, students may choose to switch to another catalog as long as that catalog is no more than six years old at the time of graduation.
Note that each list of electives included in the summaries represent the approved classes for that academic year. A class must be on the approved list in the semester it was taken in order to fulfill an elective requirement. Always refer to the most current list of approved classes when choosing electives.
Students are encouraged to use STAR audit for official course requirements
Degree Map for 2021/2022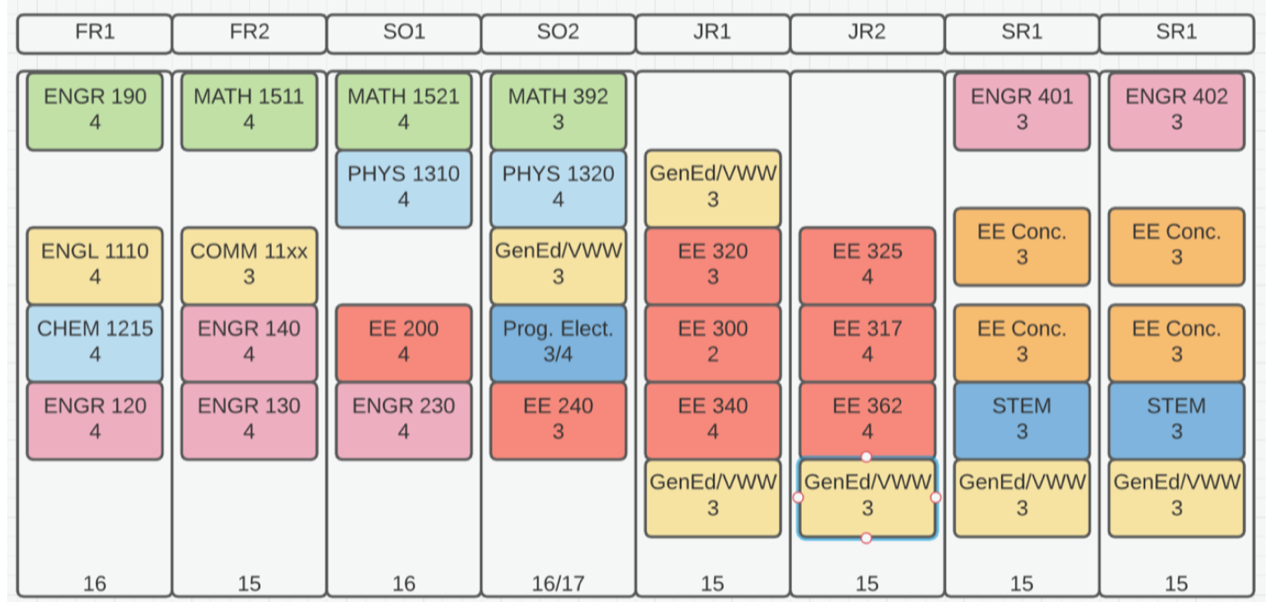 Current Catalog Description, BSEE